Welcome to Claybury International's on-line shop.
Getaway Guide
As of January 1st 2014 The Getaway Guide has been discontinued. We apologise for any inconvenience that this may cause. You may find the following service helpful http://www.christianholidayguide.co.uk/
Culture Craft
by Rick Sessoms & Colin Buckland
Price  Free – use Discount Code ClayburyGrace  (eBook download only)

Many committed, capable, next-generation leaders are confused and frustrated in their current organisations. They cannot reconcile the evident chasm between the Jesus way of leadership and their own organisations' dysfunctional cultures. Rick and Colin have written this book to clear the confusion. They ask tough questions that reveal any organisation's culture. They also offer practical, proven tools to build a 'healthy' organisation, one whose members demonstrate real values that are consistent with the teaching and example of Jesus. This is a must-read book for 'culture crafters', those leaders who want to influence their organisations toward better health.
Please refer to the eBook licence
Project Management for Christian Leaders (Second Edition)

by Mike Waddell
Price: Price  Free – use Discount Code ClayburyGrace  (eBook download only)

In the Christian sphere, where resources are in scarce supply and the outcomes are important, many leaders will find themselves running projects with few project management skills and little experience. Often the result is high levels of pain in terms of personal stress, waste of money and resources, and too often failure. Borne from years of experience, "Project Management for the Christian Leader" picks up from where the ebooklet "Project Management: A Practical Guide for Christian Leaders" finishes. The 180 pages of this second edition provide a servant leader's insight into the true nature of projects, keeping strategies and plans in line with God's purpose while leading the project team members to achieve their full potential. It sets out simple but comprehensive approaches for project planning, execution and it offers practical guidance for dealing with common issues, while keeping in mind the needs of both church and organisational project managers. See also the Christian Leadership article "7 Tips to Reduce Project Management Stress for Christian Leaders"
Download Table of Contents, Introduction and Table of Figures

Please refer to the eBook licence
Project Management: A Practical Guide for Christian Leaders – an eBooklet by Mike Waddell Price:  Free – use Discount Code ClayburyGrace   (eBook download only)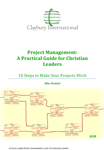 One of the greatest stressors anywhere, let alone for Christian leaders, is running a project. This is because projects are dependent upon other people for achievement and more than that, most times they will involve activities beyond the competence of the project manager. In Christian circles many leaders are running projects but have no training and experience to call upon. This eBooklet of a dozen pages briefly surveys 10 key steps for successful projects. Mike is an experienced project manager. For many years he has run project teams operating around the world delivering complex projects. This booklet provides an accessible, practical guide distilling the essence of project planning and management for the inexperienced and uninitiated Christian project leader. It's a "must read" for budding project managers.
Please refer to the eBook licence
Multiple Copies
If you wish to purchase multiple copies of books for training or similar purposes, please contact Claybury International at admin@claybury.com to discuss your need and obtain a quote for bulk shipping costs.
Post and Packing
Mainland UK shipment is normally via Royal Mail second class post which targets 3 day delivery after dispatch. International postage is normally via Royal Mail Airmail Printed Papers which targets 5 day delivery after dispatch.
---